Modern and trendy furnishings are very important for maintaining high-quality living spaces. No one loves seeing old, shabby areas when entering the house. Thus, people spend hours choosing just the right piece of furniture that can not only enhance the functionality of their space but also its aesthetics.
Liven up your place with the latest, exclusively designed solid wood furniture from Furnmill that will instantly bring positive energy and timeless elegance. In this blog, we will help you dig deep into the five most exclusive design trends that will spruce up your living space.
Minimalistic Design
Minimalistic designs are becoming increasingly popular lately due to their straightforward and uncomplicated aesthetic. With exclusive designs and minimum space coverage, they enhance the beauty of any place. The Furnmill's minimalistic design furniture adds just the perfect volume to your living space and brightens up your surroundings. Our exquisitely designed furniture seamlessly blends with your interior, whether it's contemporary or even traditional. With fewer intricate details, they are easy to maintain and radiate a clean look.
Our Top Pick:
The Della Bedside Table is a testament to the beauty and practicality of minimalistic furniture. This Aztec-style rectangular table has a sleek design with smooth edges and clear lines. The dual brown tone allows seamless integration with various color schemes. This minimalistic masterpiece is the perfect combination of style and functionality, with its two big drawers that provide sufficient space to store everyday essentials.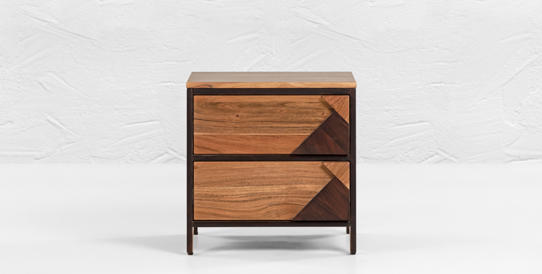 Sustainable Work
Committed to sustainability, Furmill offers eco-friendly pieces that are one-of-a-kind. We are an ISO-certified company that has also been recognized by many other prestigious organizations such as IQS, VRIKSH, C-TPAT and more. In addition, with a blend of the latest technology and traditional techniques, we provide you with an array of options, giving you the chance of turning your household into a haven of comfort while prioritizing the environment.
Our Top Pick:
The Emma Bed highlights the natural work of our craftsperson with a refined design and flat planes. This low-lying queen-size bed is made with high-quality solid wood, adding a classy addition to your room. The simplicity of the design and certification makes it a versatile choice that can adapt to evolving trends. The natural texture of the wood is a harmonious fit for all tastes and styles.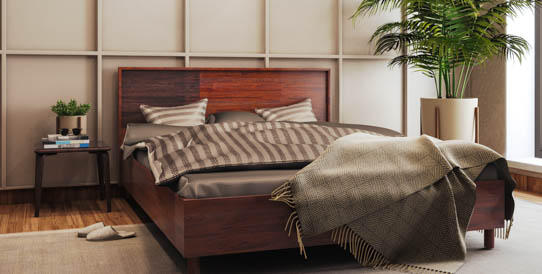 Geometric Patterns
Geometric patterns have made a huge comeback in modern wood furniture, providing an opportunity to break free from traditional designs to create a captivating look. The Furnmill geometric patterns serve as a focal point for your living space and add visual interest to anyone visiting your place. They infuse your space with contemporary and artistic flair. By incorporating furniture with geometric patterns, you can play with the interiors, creating an impression of spaciousness.
Our Top Pick:
The Balance Book Rack is the most innovative and multi-functional solid wood furniture piece. Its toggled effect creates an illusion that is visually appealing, and the subtle contrast between the distressed finish and clean wood surface complements the geometric pattern. This classy wooden book rack is an exquisite addition to your alluring living space.
Contrasting Finishes
Incorporating wood with other materials creates exciting and compelling new designs. Mixing them with materials like metal, glass, and marble can create a seamless difference that can elevate your space. The Furnmill's contrasting finish furniture, skillfully crafted to suit your desires for finely blended furniture, can charming appeal to your home.
Our Top Pick:
The Trinity End Table features a modern mid-century design. This remarkable piece strikes a contrast as the fine solid wood and abstract marble are carefully placed to produce a chic design. It features an interlocking triangular base that adds a dynamic visual element to your living space. The contrasting colors of both materials create a standout effect that enhances the overall aesthetics of your home.
Multi-functional Designs
As the focus on maximizing spaces at home has increased, modular and multi-functional furniture designs have gained traction in modern times. Furnmill furniture with incorporated shelves and storage spaces maximizes the utility while upgrading the overall appeal of your living space.
Our Top Pick:

Furnmill's Chicago TV Unit has an unconventional and unique design. The 3 storage drawers offer ample space to create an organized setting for your television and other essentials. The spacious compartments and minimalistic silhouette create a perfect balance of style and functionality when it comes to having the best furniture for your home.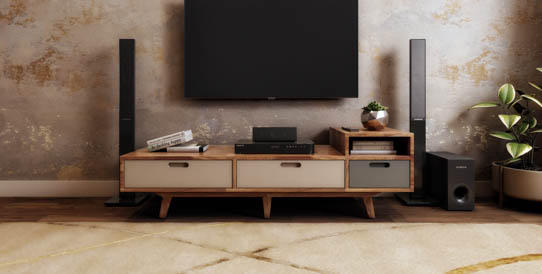 Elevate your living space and bring a sense of relaxation to your home with a finely curated, extensive range of stylish Furnmill furniture. Check out our website to stay updated with the latest trends and grab the best deal today!