A house becomes a home only when you add a personal touch to it. And you can do that easily by bringing in your style and personality in the form of furniture. Incorporating wooden furniture can not only convert your home into an inviting space but also add a timeless appeal to the interiors.
Among the many versatile pieces of wooden furniture, tables remain a must-have in every living space. They effortlessly add functionality and elegance to your home. However, with a large number of designs, it can be overwhelming to select something that truly defines your personal style. With Furnmill, put an end to the never-ending search and create a chic interior with our exquisite collection.
Add Style to Your Space With Center Tables
A center table is the soul of any living room wooden center tables by Furnmill are a timeless piece that can enhance the style of your home. The grains, textures, and finishes of wood add a sophisticated charm to your living space. It is also a great way to add a little extra storage space for your everyday essentials.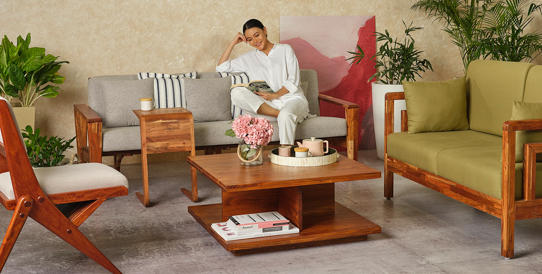 Our Osaka Center Table is a compact table with a modern design. This contemporary-style furniture piece radiates elegance. The neutral wooden finish makes it a versatile pick for any space. In addition, it comes with two drawers for extra storage.
Create an Aesthetic Corner With End Tables
Can't figure out how to create an aesthetic corner? Furnmill end tables are a great option for creating balance. They are lightweight and can easily be repositioned to suit your needs. You can showcase your priced decor pieces, candles, books, or small sculptures to create a corner that grabs attention.
Our Gracia End Table creates an elegant charm with its shape and size. With a mesmerizing vintage look and a beautiful shape, this end table is futuristic in its design and super convenient.
Bring Functionality With Dining Tables
A dining table is a place where your entire family comes together to share a meal and create memories. Furnmill takes pride in providing exclusive wooden dining tables that enhance the hosting experience and create inviting atmosphere for guests.
Our Hamburg Dining Table is a low-maintenance yet eye-catching dining table. With room for all your courses, this table provides maximum utility and ample space. The organic wooden finish and neutral color prompt an edgy and classy look.
Easy Access to Your Belongings With Bedside Tables
A bedside table serves as a valuable and practical addition to bedrooms. Within arm's reach of your bed, it is easily accessible and a designated spot for your everyday essentials.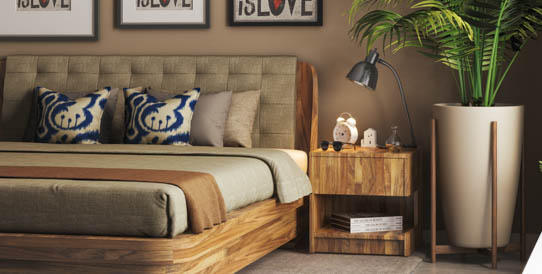 Add glamour to your bedroom with the quirky Lucid Bedside Table. This exclusive Indo-Western Furnmill table is space-saving furniture, adding a hint of sophistication to your bedroom. So create a harmonious ambiance with this dual-color bedside table.
Wooden tables accentuate space and elevate the aesthetics of any home. Thus, one must not ignore them when it comes to enhancing the classic appeal of the home. Digging deeper into our collection can help you find the perfect piece that reflects your personality. Visit our website and grab the best piece now.