A bedroom is the most comfortable place in your home. It is your comfort space - where you can unwind, relax, and be the way you like. But what if we told you that with a simple addition, you could turn your bedroom from functional to fabulous?
The bedroom sofa is the ultimate furniture piece for any cozy and stylish setting. Whether you're looking to create a convenient reading nook, a spot for your morning coffee, or a place to recline and catch up on your favorite shows, a bedroom sofa is perfect for your space. Furnmill understands this, and that's why we offer an extensive range of stylish and functional bedroom sofas to help you create a wonderful sanctuary.
In this blog, we'll take a closer look at some of our top picks for bedroom sofas that are sure to help you transform your space into the ultimate retreat. So, let's dive in.
Revamp Your Space With A Single Seater Sofa
Single-seater sofas are the most comfortable and multipurpose pieces of furniture that can instantly refine the look of your bedroom with a touch of elegance. The exquisitely designed, opulent, solid wood, velvet Furnmill single-seat sofa is sure to catch the eye of anyone who enters your home.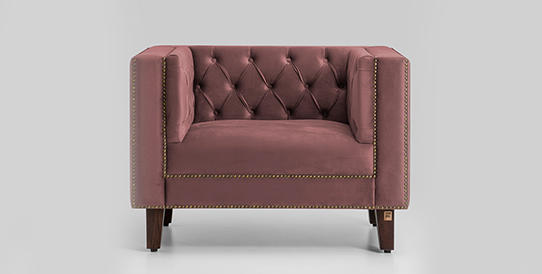 It comes in various colors to help you match or contrast with the room setting. You can opt for the Manchester 1 Seater Sofa to spruce up your space with a touch of elegance and comfort or go for the Cairo 1 Seater Sofa for an added touch of sophistication.
Create a Chic Look With 2 Seater Sofa
The most elegant yet versatile item to keep in your bedroom is a 2-seater sofa. It is an ideal furniture item when it comes to elevating the comfort of your bedroom and adding a comfortable spot to your space. The velvety smooth Hudson 2-seater sofa from Furnmill, designed to create a functional yet stylish ambiance in your bedroom, can let you sit back and enjoy the day reading a book or watching television. The lavish look of this sofa will also give you the liberty to experiment with different color-blocked cushions or tiny circular pillows.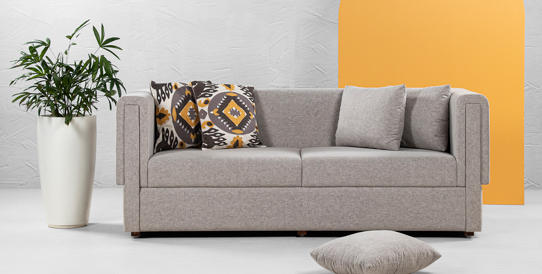 To give your space a classy touch, complement your sofa with our rocket center table or amber rotate center table. Also, add some tabletop accessories like Sigma Metal Coasters, Hexagram Bowl Set, Escalop Candle Stand, and more to further enhance the overall aesthetic appeal.
Enhance Functionality With 3 Seater Sofa
Whether you need to relax, lounge, or have some downtime, the Autumn 3-seater sofa is ideal for your bedroom. They come in fine colors like grey, brown, and green to help you create the most pleasing decor theme in your room and beautiful memories.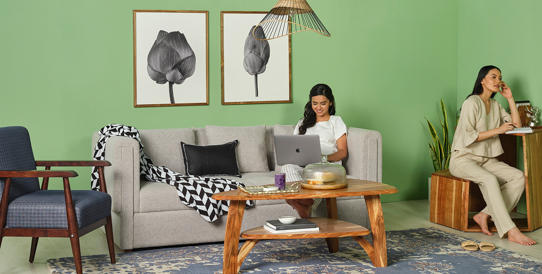 You can also enhance the setting of your bedroom with a Liverpool TV unit. The solid wood construction and natural finish will provide you with much more than just appeal. For a more opulent look, you can add a Propeller Candle Stand and Sedate organizer.
We provide the finest solid bedroom sofas that are attractive, Multifunctional and durable. So don't hesitate! Purchase some of the magnificent wooden furniture pieces from our store online and spruce up your place like never before. Also, explore the new arrivals to make your place look welcoming.