Introduction
The bedroom is one of the most crucial living spaces in the house, and hence, it calls for some amazing room décor ideas, so that at the end of the day you look forward to returning to your bedroom. What makes your bedroom a place you belong? Your signature home furniture items, the right kind of décor, and a refreshing and well-thought-out theme. A home looks complete only when you invest time and effort in all of your spaces.

Let's look at some best bedroom design ideas with the best bedroom furniture suggestion that will give your bedroom a perfect makeover!
5 Best Bedroom Design Ideas - tips you cannot miss!
The Perfect Comfortable Bed
If you are looking for comfort with a lavish feel, an upholstered and luxurious bed works wonders such as this California Bed from Furnmill Furniture. You can choose from various colors like pink, grey, green, and royal blue and make it a focal point in your bedroom. If you are looking for something minimal, then the Avan Bed or the Emma Bed are ideal. They add a rustic and elegant touch to the room.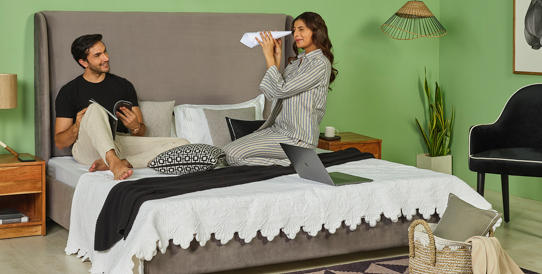 Bedside tables
While most people prefer symmetry in a pair of bedside tables, you can go for a complete east and west to give it a funky look. Colored and textured bedside tables like the Stout Bedside Table or the Sway Bedside Table add the right pop and dimension to the bedroom.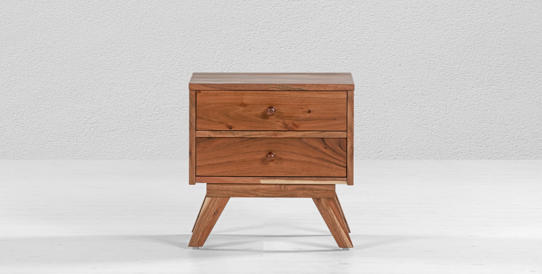 Other than these, two simple wooden tables, like the Greek Bedside Table, can also work! With rattan being the flavor of the season, the Medley Bedside Table is the best bet if you are looking for some space-saving furniture. Keep the top of side tables clutter-free with just a lamp, a picture frame, or some décor item, or nothing at all. The choice is yours.
Create an aesthetic reading corner
A reading corner with a cool accent chair is a great idea to liven up the unutilized bedroom space. Add a compact chair like the Logan Accent Chair or something more magnificent like the Furnmill's August center chair if you have the area and like the colonial library vibe. The Balance Book Rack looks super fun and will be a great addition to your cozy reading nook.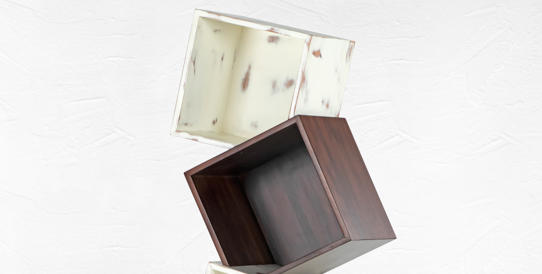 Add Playful Floor cushions/Benches
Floor cushions have a comfy and playful appeal and don't need much space. You can even remove them when not in use. Choose between Furnmill's Crimson Floor Cushion, Kai Floor Cushion, or Amber Floor Cushion to add to your space. Benches are also a good option as they are sleek and add a seating space when needed. The Theo Bench or the Prague Bench can be your perfect choice.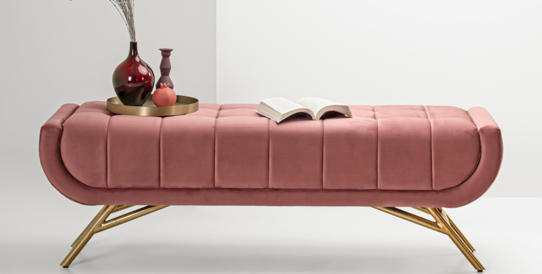 A Minimal Chic TV unit
If you have the required space and need a bit of storage, then a TV unit is just what you need. It's ideal for placing your stationery, wires, and other knick-knacks, which usually tend to be scattered all around. The Chicago TV Unit is minimal, flaunts classic colors, and is great for storage. It has the perfect dimensions, is compact, and has a sleek design. The dark walnut Liverpool TV unit is a great option for larger bedrooms if you want a rustic feel. This multi-functional furniture offers both - storage and an aesthetic look..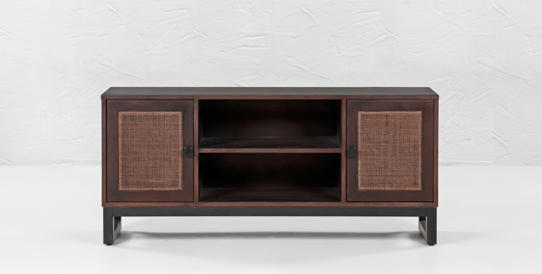 Other Add-Ons to Look at Sassy Curtains
This is probably the easiest thing to do. Just change up the curtains to match all the new furniture, or just change one panel of the curtain to complement the whole look. There are a lot of designs and fabrics available to choose from. You can go for contrasting colors or keep it a basic one-toned set.
Cute Picture Frames
No matter how many pictures you add, it's never enough to complete your memories in the house. As pictures never go out of style and always leave a smile on our faces, you can make them even more interesting by changing the pictures or the frames. You can also think about changing the old-style picture frames with innovative digital or 3D frames.
A DIY painting
Pick a canvas and do a paint project with your loved ones. Something as simple as getting your newborn's hands painted and imprinted on a canvas can look cool and will forever have sentimental value in your life.
Add lights and Cozy lamps
Lights make a whole world of difference and help to set the right ambiance. You can choose from various options of lights and lamps as per your bedroom theme and furniture.
Conclusion
There are a number of options, styles, and best room décor ideas that can change your entire bedroom game. Various creative and multi-functional products await you to bring about some interesting changes to your living space. So, what are you waiting for? Take inspiration from the shared ideas and give your bedroom a beautiful look.

Explore Furnmill's furniture collection online and start building the bedroom of your comfort and dreams. Please don't forget to mention which bedroom room decor and bedroom furniture design ideas you liked the most in the comment section below

Explore our wide collection of furniture and style your home as per your aesthetics.