Create the perfect day of love with Furnmill: Valentine's Day 2023
Widely known as Saint Valentine's Day or the Feast of Saint Valentine, Valentine's Day is marked annually as the festival of love on the 14th of February. It was formerly a feast day honoring one or two early Christian martyrs named Saint Valentine, and through folklore, it has now turned into a commercial celebration of love and romance across different regions of the world. With the hustle and bustle in today's life, minor celebrations of love during valentine's week can render memories of a lifetime. With a dramatic cultural shift in the world near us, Valentine's Day is now celebrated not just as a day for lovers, but for all relationships that are dear to the heart.

One can embrace the spirit of Valentine's Day by coming together as a family and exchanging tokens of love. At present, choosing to spend Valentine's Day at home can feel like a gift in itself. This Valentine's week, make it extra special and romantic with very little effort and a lot of love. Planning for Valentine's week can appear to be a laborious task and we here at Furnmill are all ready to help you plan the perfect Valentine's week in the comfort of your home. Let's dive into our ideas to transform your Valentine's Day Date into a true celebration of love.
Romantic Valentine's Day Date at home
This Valentine's Day, bring home Furnmill's passion and get cozy with your loved one with the added warmth of upholstered sofas such as Minika Sofa, Cairo sofa, etc. for your Valentine's Day Date. Create the perfect Valentine's date vibe at home by simply moving around some pieces of your existing furniture or by adding upholstered single-seater sofas in a pair, or a pair of fabric accent chairs by Furnmill.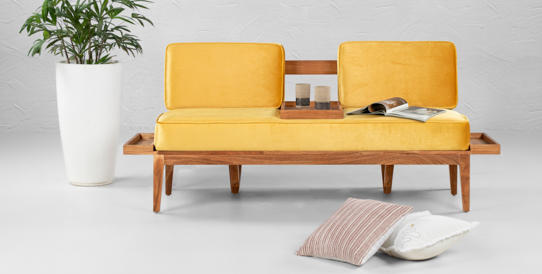 To boost comfort, plop some cushions and add a woven throw across the sofas. Lay a center table or a coffee table with fine wine and a sumptuous spread of food. For comfy seating for your valentine's day date, Furnmill's August Accent chair paired with the Noah Nesting Table would be just perfect. For a more generous date setup, pair Furnmill's Hudson Sofa with the Claw coffee table.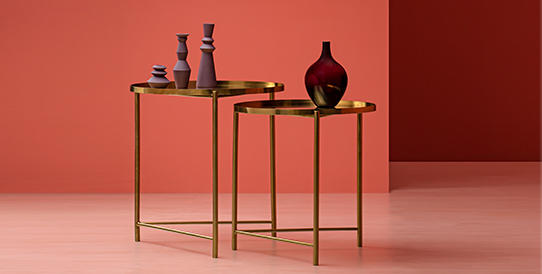 Valentine's day appropriate styling
To create the perfect Valentine's Day vibe in your home, play smart with glimmering metal home accessories by Furnmill. Furnmill offers a profusion of home décor accessories to add a luxurious charm to your valentine's day date
For a romantic evening, pair Furnmill's Nova Candle Stand with your favorite scented candle and scatter fragrant blooms and gleaming pearls to create a decadent display on your coffee table, bedside table, or even on the floor. Set up a romantic valentine's day dinner date on your dining table at home and add elegant accessories to evoke a charming vibe.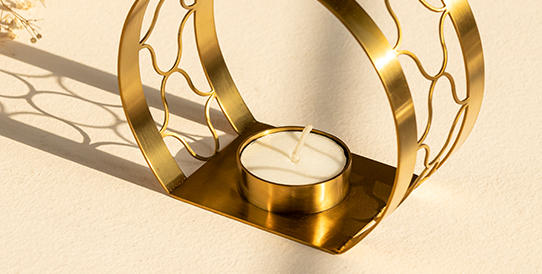 To add a luxurious sense to the dining table layout, use napkin holders like the Cresent Napkin Holder for the dinner towels. Use Furnmill's Hexagram Bowl set to hold finger foods and the Charon Platter to make a delicious cheese board for a heavenly valentine's dinner date with your loved one. The little endeavors are inviting and can invigorate your valentine's day date with little to no effort.
Food is a way to the Heart- Create a platter for this Valentine's Day
This valentine's day whether you are single, or celebrating with your significant other or your family, one thing is common- the love for breakfast in bed. Nothing beats a full-service, sumptuous breakfast served in the cozy comfort of your bed. Whip up some breakfast muffins and mini pancakes topped with delicious maple syrup and fresh fruits and serve it on Furnmill's Charon Platter. For an evening of romance, you may also use the Charon platter and Hexagram bowl set to display a variety of cheese and crackers to aid the perfect wine tasting for quality time with your significant other.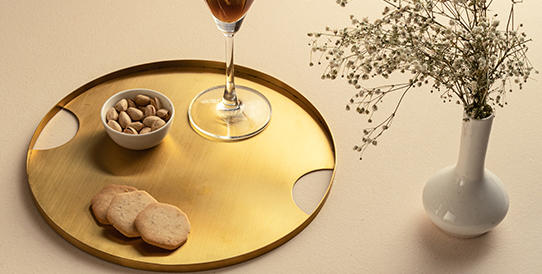 Cozy up with an Indoor Picnic: Perfect Valentine's Day at home
This Valentine's Day, if going out seems too much, your living room is the perfect place to create an indoor picnic. Invest in a bunch of floor cushions by Furnmill. Layers these colorful floor cushions on a rug and decorate them with fairy lights, flowers, and candles. The floor cushions by Furnmill are the perfect way to create comfortable seating on the floor without compromising on the vibe of the night. Add a couple of knitted throws, champagne, and a picnic basket full of delicious snacks. For a relaxed evening ignite a light incense on the Abha incense holder by Furnmill to render a romantic atmosphere indoors.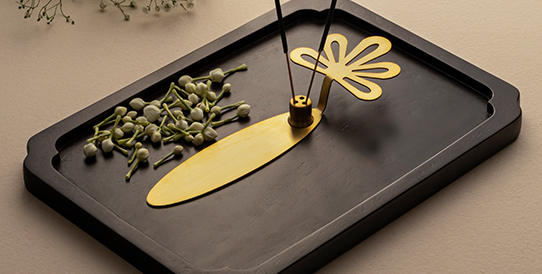 Valentine's day should signify love and not the distance between you and your loved ones. Furnmill brings you endless gifting options for Valentine's Day. Choose from a wide array of living room furniture, bedroom furniture, study room furniture, and dining room furniture to gift to your loved ones as a token of love. Transform your relationships and elevate your home this Valentine's Day with Furnmill. Celebrate the season of love by bringing comfort and happiness to your loved ones.