Hottest Festive Decor Ideas for Your Home That You Must Not Miss
It's that festive time of the year again! With festivities around the corner, it is time to elevate the vibrance and happiness of your homes with a fresh spin on Indian aesthetics. An effective way to do that is by inviting new home furniture and home decor to your abode. The decor should bring happiness, joy, and comfort that brings a sense of contentment to everyone in the family.

To achieve these attributes, you can begin by jazzing up your living space with a range of classy decor products and furnishings from Furnmill Furniture. This festive season, host a party to celebrate with your family and friends by using the best festive decor ideas and party ideas for your guests.

Browse through Furnmill's furniture collection for hosting a stunning get-together or house party this festive season. Check out the list of the top 14 home furniture items that are a must-have for your festive season parties.
Sigma Metal Coasters
House parties are incomplete with drinks and discussions. Use these classy and sleek metallic coasters to keep your tables spotlessly clean. Level up your home decor game with these metal coasters.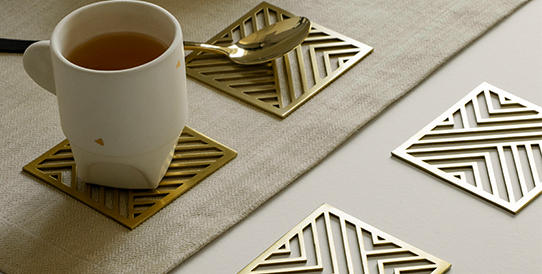 Theo Bench
This bench is the perfect piece for adding an extra seating space to your living rooms. Its vibrant and soft velvet fabric and gold finished metal legs will definitely breathe glamor into your party.
Noah Nesting Tables
Bring in this pair of nesting tables to give a metallic sheen to your festive party. This is a compact durable and affordable piece that can instantly elevate the aesthetics of your space.
Manchester Sofa
This 3-seater sofa can be the perfect warm setup for a late night cards game or a cocktail party. Made with a luxurious combination of wood and velvet, this sofa can bring vibrance to your festive decor.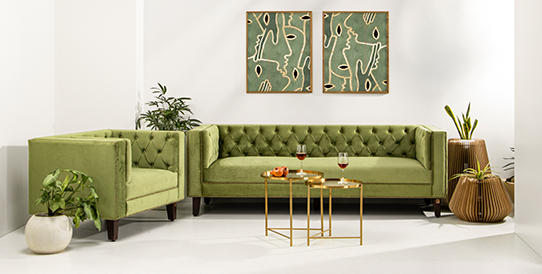 Domino Accent Chair
Available in mustard yellow and olive green, this accent chair is a striking piece of solid wood furniture your home needs! Perfect for entertaining guests, especially if you're planning to do a movie night. The side table is just what you need to keep those snacks as you have a great time with your friends.
Center Table
Looking for the perfect low coffee table to spruce up your living room? Find this amazing wooden center table on the Furnmill online furniture store. Chic and modern, this center table is a perfect fit for any type of living room. Designed to offer convenience, the table has a lot of storage space. Add a table runner or coasters, and this piece of furniture will be perfect for serving the snacks or to play party games.
Chicago Dining Table
Isn't it lovely to call friends and family over and host dinners? This festive season, make sure your online shopping cart has this solid wood furniture item! The Chicago dining table has the power to elevate the look and feel of any living room! The sturdy table is highly durable and comes with an edgy matte finish. You can buy it online on Furnmill and host the perfect party for your friends and family.
Nomad Accent Chair
Who does not like a few moments of peace and quiet before the guests start coming? This beautiful accent chair with cushioned seat and back is a great addition to your home. The armrest and the linen fabric offer durability and make it a great choice if you're looking for space-saving furniture.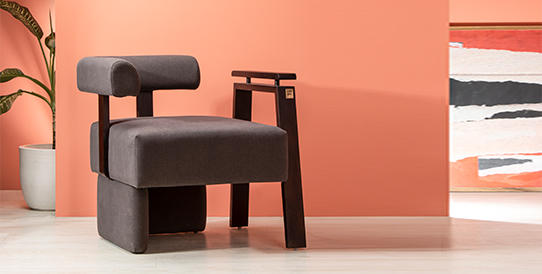 California Bed
Available in calm and alluring shades of grey, green, and mauve, the California bed is one of the best affordable furniture pieces you can add to your home. One of Furnmill's best-selling items, the California Bed, with its beautiful silhouette, makes your bedroom a very cozy space.
Crate Sofa
Looking to spruce up your living room with some must-have home furniture? How about adding this beautiful crate sofa to your home space? Edgy and modern, this sofa is an ideal choice if you are looking for affordable furniture to add some understated elegance to your living room.
Nirvana Bed
Your search for a modern yet classy bed for your bedroom ends with the Nirvana Bed. Its classic design makes it a must-have when it comes to home decor. If you have been thinking of buying yourself a festive season gift, this bed with tilted legs is the best choice. Add this to your bedroom this festive season to give your home a modern yet classic feel.
Rocket Center Table
This sharp and edgy center table will surely fetch you compliments from your guests. This unique piece is a great buy from Furnmill's wide range of furniture. Its minimalistic look is sure to liven up your house party. The highly compact design makes it a great choice for those who are looking for affordable space-saving furniture.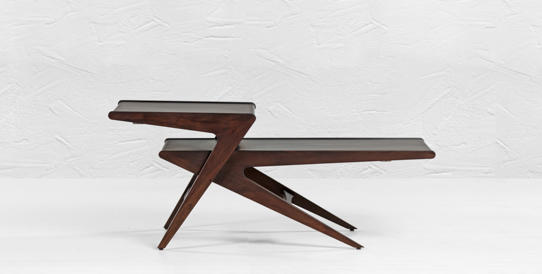 Orion Dining Table
This classic dining table is one of the best finds in Furnmill's online furniture store. This ultra-minimal dining table is affordable yet perfect for a small or a big living room. The neutral finish of this table makes it a great spot to serve wholesome meals at house parties! The natural color palette and the sleek finish make it an intelligent addition to your home.
Emma Bed
Looking for a low-lying bed to change your bedroom decor this festive season? The Emma Bed will be a great find during your online furniture shopping. This classy bed from Furnmill is designed to elevate any living space and is a perfect fit for all styles or tastes. This bed is just what you need for those late-night gossip sessions with friends.

With Furnmill, online furniture shopping is conveniently comfortable. Get inspired with some festive decor ideas as you shop online for furniture this festive season, and check our range of blogs for more home decor ideas. Add Furnmill to your home this festive season for some elegant, understated vibes.