How to find the perfect sofa match for your Living Room
A sofa is the most important feature in your living area. This versatile piece of home furniture is often used as a spot for eating, watching TV, reading, or curling up for an afternoon nap. With some thought and planning, you can pick the right one for you and your space.

So, what are the factors you should consider before buying seating furniture? While quality, functionality and looks are the chief parameters when picking a sofa set, there are other factors to consider. Let's examine them.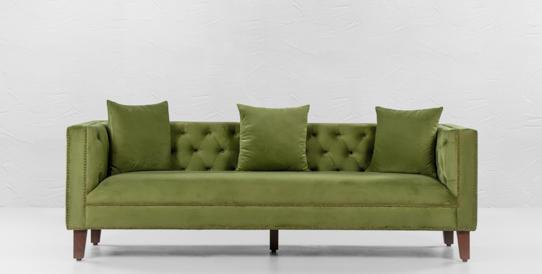 Check for comfort
If you are shopping for a sofa in a store, it's a good idea to check the comfort. Is the back of your knees touching the edge of the sofa? And is your back getting enough support? Seat depths tend to vary depending on the design. The height is more or less the same and can be between 45-50 cm. What feels comfortable is right for you. This Manchester Sofa, for instance, is elegant and comfy too.

In case you are shopping online for home furniture, check the specifications, the dimensions, the material used, and the colour of the fabric. Checking out the product reviews will come in handy too when buying your sofa set.
What kind of sofa?
Your habits should be the deciding factor when shopping for living room furniture. If you like to nap on the sofa, your legs will need room. If you like to curl up, a comfortable 2-seater or 1-seater sofa is a perfect choice. Otherwise, you will need a bigger couch. If your sofa is where you catch up on your reading, a comfy accent chair is a great living room decor idea.

You might want to consider the number of people in your household and how often you entertain while shopping for furniture. You don't want to squeeze into a small sofa while watching TV together.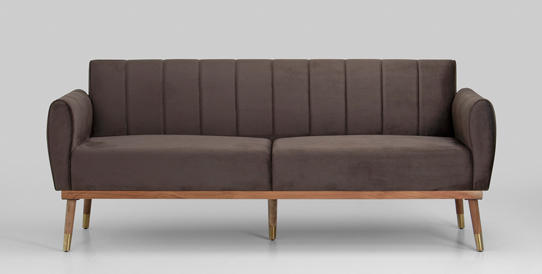 The framework should be sturdy
A sturdy framework of solid wood is essential for long life. Check whether it is rubber or engineered wood before you decide, as these materials don't last long. A solid wood frame, such as the Autumn Sofa, is your best bet, as the couch is used throughout the day. A wooden table such as the mellow center table will pair well with this sofa. Again, do read detailed product information thoroughly during online furniture shopping. While picking furniture, always prioritize strength and comfort over looks.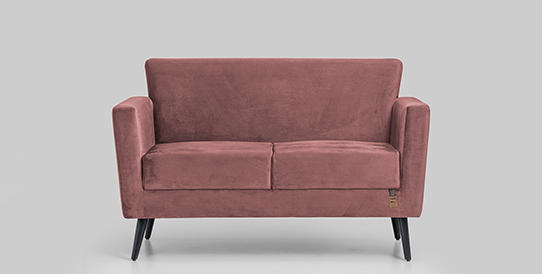 The fabric plays a vital role
When buying an upholstered sofa, you may have the chance to select your preferred color from the shade card. Your color choice is vital as your sofa will impact the entire living room décor. When shopping online, check for color options and the quality of the material. Also, expect some color variation, as it's difficult to gauge the exact shade online.

Next, the type of fabric is crucial for the comfort and upkeep of your upholstered sofa. Breathable fabrics that are also easy to maintain are excellent choices. Velvet, leather or linen are good options, especially if you have pets, as these fabrics don't allow hair to cling to the fiber.
Check the dimensions
Buying a Sofa that doesn't fit in the room is every homeowner's nightmare! It is always better to be sure of the size before buying to avoid any hassle. Remember to measure the width and length of your wooden sofa set. The width will be the couch measurement from the back of the sofa to the front edge. Consider the height if you have low cabinetry or shelves in the room.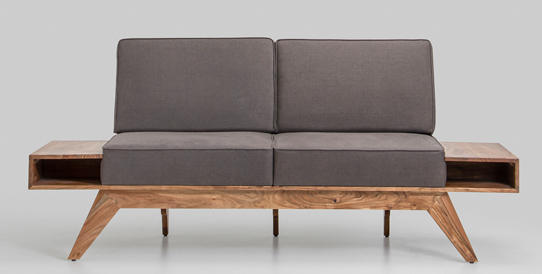 Sofa cushioning should be comfortable
Your sofa may be pretty to look at, but what's in it is just as important. Over time, poor-quality foam and fiber may flatten and sink. Find out what the brand offers and what materials have been used. Furnmill has aesthetic and comfortable sofas crafted from the best solid wood. While picking out the perfect sofa set from an online furniture store, opting for a center table that matches your sofa is a good idea. Alternatively, you can go for the Berlin 2-seat set with attached end tables for contemporary appeal, comfort, and utility.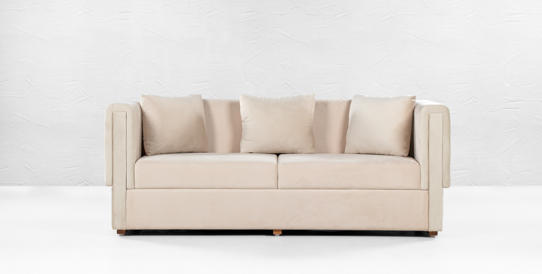 Choose your design
Deciding on what type of sofa you want can be confusing. There are many options; sectional, modular, or mismatched sofas. You can even try something unique and contemporary, like the Minika Sofa. Or, if you are looking for something vibrant to enhance your living room along with a great level of comfort, then you can never go wrong with the California Sofa from Furnmill. To add an element of interest, you can try a pair of cosy chairs in contrasting colours to go with your seating arrangement. The colours and textures of accent chairs will give your decor an exciting touch.
If you are looking to buy living room furniture online, then Furnmill is the right choice. We have a vast range of furniture that matches your style and aesthetics.
Final words
Curling up with a bowl of popcorn and the TV remote is nothing short of bliss; your seating furniture can make or break this experience. For comfort, durability, and style, you need quality sofas, and Furnmill ticks all those boxes. Check out our website for more living room furniture ideas.