Important Things to Consider While Buying Solid Wood Furniture
Home decor is incomplete without wooden home furniture that amp up the look of your space. Whether you choose to buy furniture online or at home furniture shops, there are certain things to look out for while investing in solid wood furniture for your home.

A great collection of wooden furniture makes the home aesthetically perfect while serving as a comfortable piece of article for daily use. However, a wrong choice as per your requirement or a left out feature in the furniture can lead to a bad experience and discomfort.

Hence, here are some of the most important things to consider while buying solid wood furniture for your home.
1. Authenticity of the product
Though there are a lot of furniture stores selling wooden furniture, not all are 100% solid wood. Some furniture might have a mixture of solid wood and other material to give them more flexibility and a modern look. However, do not fall for such a disguise, as sturdy wooden furniture should be made up of 100% solid wood. Center Tables, TV units, Chest of Drawers, etc. are great example of furniture pieces that must be in solid wood as these are the pieces that ties together the look and feel of your home.
In the case of buying from an Online furniture store, always ask for a certificate of authenticity when you buy solid wood furniture from them.
2. Look at the Size
It is really important for you to have an idea of the size of furniture that you want for your home. Measure the approx area of the place where you wish to put your desired wooden furniture and then look out for the exact or a little less size of the same. For example, if you have little room and you choose to get a big-sized bed for it, it will make your bedroom look extremely small without any free space.

Bedroom furniture has a variety of products for customers which are designed according to their needs. Nirvana Queen Size Bed is a perfect choice for people looking for bedroom furniture for a small space. Multifunctional designs like this bed can prove to be a smart choice for your bedroom decor.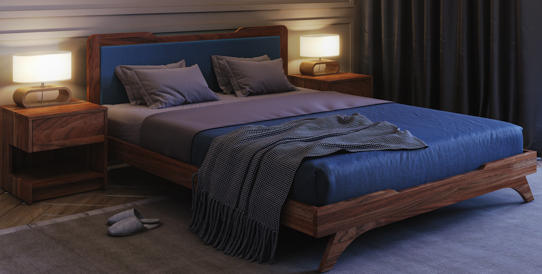 3. Check out the designs
Buying a piece of 100 % solid wood furniture takes time. Do not get impatient and buy a product that doesn't go well with your house theme or aesthetics. Always make up your mind about the required color, design, texture, etc., before you make a purchase. When you shop for furniture online, look at the catalog properly to see if you can match any of the furniture with your existing home decor and themes.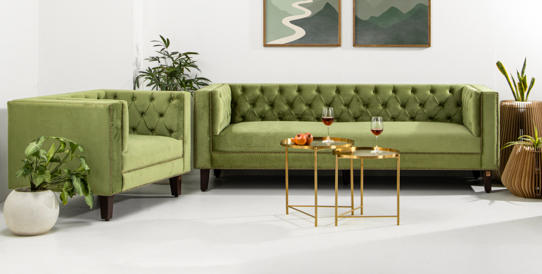 4. Ask for durability
As we all know buying an item of quality solid wood furniture is not cheap in the age of innovation. So, before you invest your penny into wooden furniture, make sure that the product is worth it. Go for the ones that are durable and strong to avoid any unnecessary maintenance or breakdown of the furniture. Solid wood furniture with multifunctional design is quite a good choice for people who have durability and unique designs as their priority.
5. Ensure Storage Spaces
A lot of modern apartments do not come with enough in-house storage space. Hence, a smart choice is to go for wooden products that are not only durable and strong but innovative in terms of storage. There are many modern designs of furniture in products like beds, tables, sofas, TV units, etc., that are designed innovatively to offer ample storage space to customers.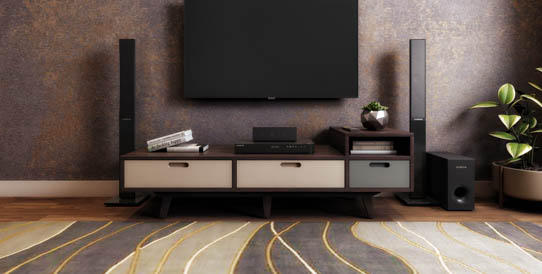 You can check out Furnmill's bestseller - Chicago TV Unit for Bedroom, which has multiple drawers and cupboards which provide good storage space for your living room, bedroom, etc.
6. Never Compromise Comfort
When you search for good solid wood furniture to add to your home, never compromise the comfort that it should provide you. As wooden furniture is very strong and stiff, it is important for it to be comfortable as well. Especially if you are looking for seating furniture, tables, and beds, it is extremely crucial for it to be comfy. Do not get swayed away just by the looks and innovation of a product. Always go for a furniture piece that has a perfect blend of style and comfort.
7. Have a look at the finish of the Furniture
A piece of quality solid wood furniture demands exceptional craftsmanship to deliver. Always take a look at the final finish of the product. There shouldn't be any unfinished areas, varnish, or rough surfaces in the product. Search for features like interlocking sides, wooden dowels, or screws that hold everything together firmly in place. If you find that there are glue marks, nails, or staples coming out from any sides, do not go for it as it looks rough, is not comfortable, and also is risky for a home with kids.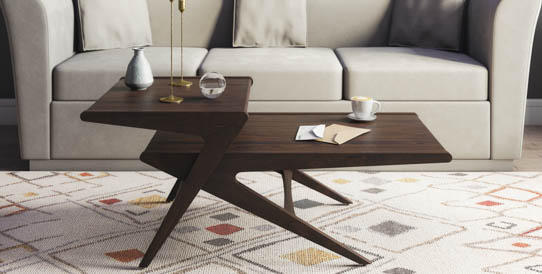 Conclusion
Investing in solid wood furniture requires a great deal of knowledge in order to turn it into your best purchase. While there are much trendy and cool wooden furniture available in the market and for online shopping, you need to consider some important points before keeping in mind your requirements. Have a look at the variety of furniture before choosing that perfect piece for yourself.

Keep in mind the size, color scheme, theme, durability, quality, innovation, storing, etc., before making the purchase. If you are looking to buy solid wood furniture, choose from our wide variety of products that have designs that are unique, innovative, and cater to your every need.