Revamp Your Home Furniture This Holi
With societies and streets painted in vivid hues and colors of joy, people across the nation would soon be welcoming the spring season on the cheerful occasion of Holi. The playful festival of Holi will be celebrated on the 8th of March this year. The Indian festival of Holi serves as the perfect backdrop for ushering newness into our lives. Bright and colorful Holi themes symbolize positive energy and change. With the festival just around the corner, it is the perfect time to start visualizing your home for Holi 2023.
Keeping in mind the significance and zest of Holi, it's a good time to invest in new furniture for your homes to revitalize your home and revamp your furniture setups. Loop in Furnmill's tips on how to revamp your furniture this Holi to ease your eagerness and multiply the fun.
Make Holi vibrant with multi-colored furniture
Indian households are more often than not decorated with monochromatic furniture that follows a common line of design and colors. This lacks the playfulness that the Festival of Holi brings with itself. Replace your boring sofas and chairs with vibrant-colored sofa and chair options by Furnmill. A pair of vibrant-colored chairs like Furnmill's Lea Accent Chair or Soho Accent Chair with its printed fabric can enhance the vibe of the room when paired with sofas from Manchester Sofa Collection.
For smaller living rooms, the Minika Sofa in blue velvet fabric when paired with Domino Accent Chair in yellow oozes a summer vibe with their vibrant colours and add functionality without compromising on space. This season, Furnmill offers great discounts on an affordable range of home furniture and accessories. Transform your living room furniture or your bedroom furniture for Holi with just a few clicks on Furnmill.com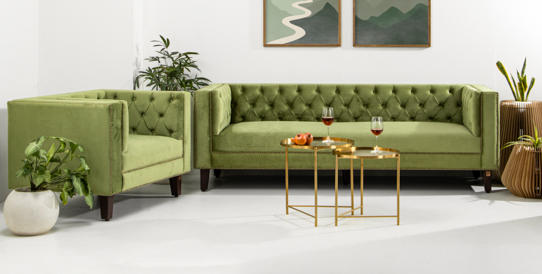 This Holi restyle your living space with not-so-basic furniture
Why invest in the standard style of furniture when this Holi you can allure your guests with unique silhouettes and furniture styles offered by Furnmill. Invest in an Autumn 2 Seater Sofa paired with the Ovees Coffee table and Oveem Coffee table for a unique furniture setup for your living room. Complete your living room arrangement with a set of Logan Accent Chairs for a bodacious look.
For a perfect blend of streamlined and curvaceous furniture, opt for Furnmill's Cairo Sofa to go along with August Accent Chair and Ovate Center Table. These unique furniture pieces not only add comfort, accents, and beauty to your home but also add much-needed playful aesthetics to your living room furniture for the festival of Holi. So, this Holi charm your guests and let your new furniture start conversations!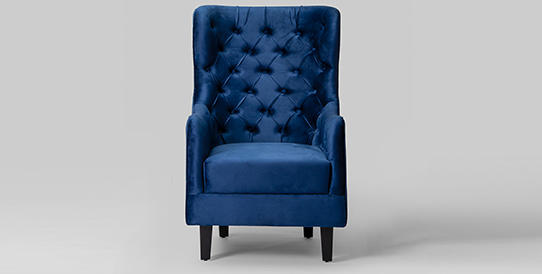 Smaller Changes in furniture can revitalize your home for Holi
If this Holi you are not looking for a big change, opt for budget-friendly furniture options online like ottomans, floor cushions or dining chairs. Furnmill's expert artistry and detailing on these furniture pieces can add a lot of functionality to any living room and dining room. A couple of Mable ottomans put together along with a pair of Kai Floor Cushions and Topaz Floor Cushions provide additional comfortable seating for your loved ones during the Holi celebrations and can easily be moved around the house for use later.
To evolve your dining room furniture setup, simply replace your old dining chairs with Furnmill's Ramsay Dining Chair or Newton Dining Chair. Adding a bench from Furnmill's furniture collection like Prague Bench and Theo Bench can transform your dining space instantly. Add table top accessories like the Hexagram Bowl Set, Cygnus Metal Coaster and Crescent Napkin Holder for an effortless look. This Holi, check out more budget-friendly solid wood furniture online at Furnmill.com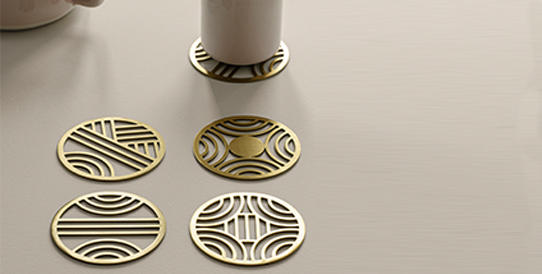 Arrange for a sweet slumber after Holi celebrations
After a whole day of playing Holi and enjoying the savoury sweets make sure you are ready for a good night's nap. Prepare to revamp your bedroom furniture collection in advance by upgrading your bed and bedside tables. Choose from a fresh range of bedroom furniture designed by Furnmill to get an unparalleled sleep experience. Avan Bed and Cleo Bed not only provide a sturdy frame but their unique design sets them apart from conventional bedroom furniture.
To match them equally Crizal Bed side Table, Lucid Bedside table and Stout Bedside Table are perfect. For smaller bedrooms Boston Sliding Bed and Greece Day bed are unmatched pieces that go well with Eva Bedside Table and Zail Bedside Table. Beds by Furnmill are uniquely shaped and offer comfort and quality sleep throughout. You may also choose to add a Hugo Accent Chair or Alan Accent Chair with an ottoman to add a luxurious vibe to your bedroom furniture. So, this Holi and for years to come, get a Goodnight's sleep with Furnmill furniture. Choose from a range of upholstery options to match your interior style.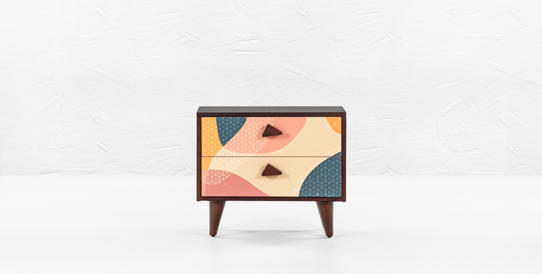 Furniture binds a space functionally and aesthetically to deliver uncompromised comfort within your home. With due diligence to this important factor, we at Furnmill bring ideas for you to revamp your furniture and transform your space to have a gala time at your Holi gathering this year. Celebrate Holi with style and comfort with furniture by Furnmill.
Shop from a plethora of furniture styles with great discounts on Furnmill.com. Make your Holi extra Colourful with playful color and finish options by Furnmill.