Simple & Elegant Living Room Furniture Designs in 2023
In the New Year 2023, the Living room will no longer be a buffer space within your private and personal life. It will no longer be used as an 'official family room' but will transcend into a 'room by your family for your family'. A home plays a crucial role in one's life. Inside your home, the most frequented space is the living room which caters to you, your family, your pets, or your guests but also has big equity in reflecting your personality, lifestyle, and tastes through your choice of living room furniture and accessories.

With the uncertainties of the world around you, transitional habits, and the addition of newer schedules you are bound to make your living room furniture more accommodating to these interactive changes in the New Year 2023.

Similar to its multiple uses, the living room furniture you put inside has to be sensibly chosen and arranged as per its design, finish, texture, purpose, and comfort. Moving into the year 2023 on a joyous and optimistic note, have a look at the best living room furniture design trends that will rule your living room in the upcoming year:
1. Solid Wood Furniture with Multifunctional Designs
Multifunctional pieces of solid wood living room furniture have been in trend for years but have gained more recognition in recent years and continue to do so in the upcoming year 2023 as well. They are must-haves for a smaller living room and an efficient way of utilizing space in a larger home. There is a plethora of options and styles you may choose from. For instance, the Minika Two Seater Sofa by Furnmill is a premium choice for a modern and sophisticated look in your living room. Made in solid wood, it comes with cup holders on either arm side, and a solid wood tray in between which eliminates the need for a table. Comfort, style, and functionality all in one product, what more can you ask for?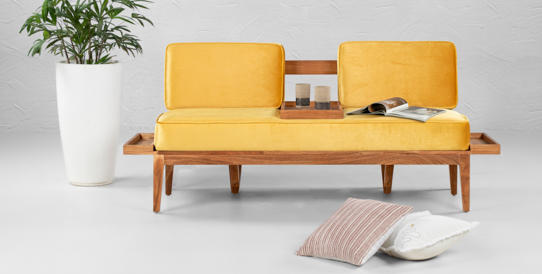 2. Solid Wood Furniture that is good for the environment
Aesthetically timeless and resilient solid wood living room furniture can adorn your living room for years to come and only grow in value in the upcoming years. You may have noticed a prominent shift in the materials used for making furniture. Along with durability you also crave a natural finish, texture, and material that does not harm the environment around you. This smart transition has brought to the surface the importance of solid wood furniture, locally sourced materials, and local crafts. You may witness products like Furnmill's Rocket Center Table, Calvin Coffee Table, and Paris End Table, owing to their beautiful and natural grains which have been beautifully refined by their silhouettes. You may want to invest in the beautiful solid wood living room furniture by Furnmill in the New Year 2023 to bring out the environment enthusiast in you!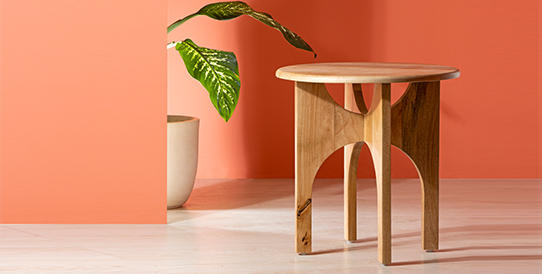 3. Living room furniture that reminds to take care of yourself
Sometimes all you might need after a long day of work is a personal retreat. A space that isn't a dedicated place to sleep like your bedroom, but a multifunctional space like your living room which not only caters to your chat-over-coffee times but also provides comfort and warmth for a quick nap. In the New Year 2023, you might want to invest in living room furniture that helps you keep up with wellness and self-care, just like the Greece Daybed by Furnmill which can beautifully fit into traditional and modern living room furniture design. Just grab your desired throw and a bunch of comfy cushions and you are ready to set up your retreat right in your living room. Check out Furnmill's Greece day bed which is made in solid wood and carved meticulously to fit into any interior style you may follow.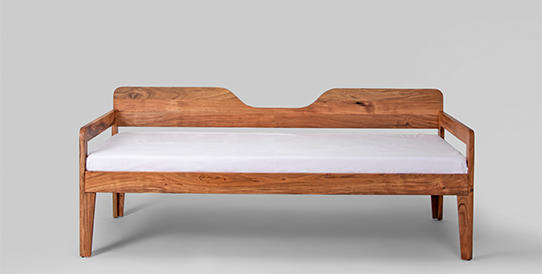 4. Curved and Sumptuous Silhouettes
In your living room furniture collection, curved upholstery and structures would be prominent in the year 2023. On the rise for a while now, we have seen curved doorways and windows, but now the curved architecture would be leaping over your chairs, sofas, tables, and the rest of your living room furniture. These styles would be seen in solid wood, marble, metal, etc. You can witness subtle and bold curves in many solid wood pieces of living room furniture by Furnmill. Whether is it the KowTow Sofa, Lea Accent Chair, or the Logan Accent Chair; one thing they all define is elegance with a hint of curves!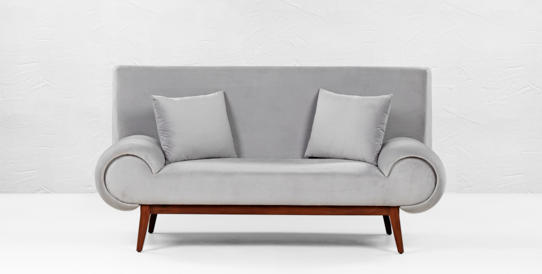 5. Living room furniture that visually expands your space
One trend which would carry forward into your New Year 2023 would be living room furniture that visually opens up your space. If you have a smaller living room or one with a lower ceiling height, living room furniture such as a Domino Accent Chair or Prague seating bench that would add a sense of lightness and expand your living room without compromising on its durability and sturdiness is the way to go. You may want to invest in seating and table styles with more ground clearance, medium to low back heights, and lighter finishes. If you are keen on sprucing up your living room, look out for the solid wood living room furniture by Furnmill.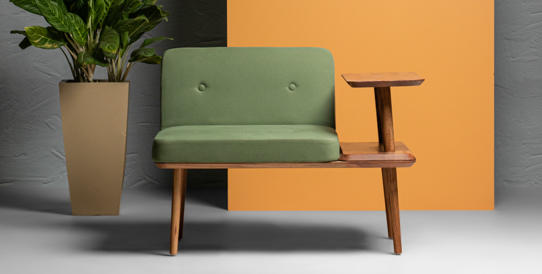 6. Personal Choice to Mix and Match
In the next year 2023, with the continued aspect of spending more time at home with family, you must have noticed that everyone has a certain concept when it comes to living room furniture. This forms a base for a mixed and matched array of furniture within a single living room.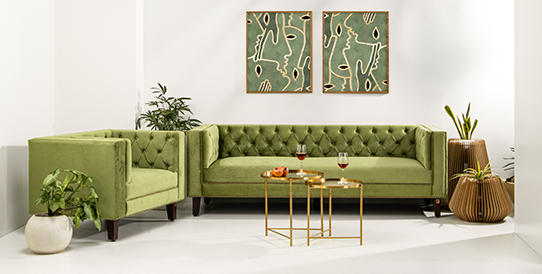 You might be someone who likes deep-seated bright-colored couches while your partner on the other hand might love a well-crafted armchair with an ottoman for maximum comfort. This is one trend that would not cease to exist even in the upcoming year or the years to follow it. The selection of living room furniture is vastly based on everyone using it. You might need all –a desk with a chair, sofas, armchairs, Coffee Tables, a TV Unit, or consoles or might need just a sofa with a coffee table, it all depends on your choice of comfort level and functionality you want to add to your living room. To help you get a kick start, living room furniture by Furnmill can guide you with their vast range of styles, designs, and utilities to pick from.