Metal Home Decor Accessories to Invigorate and Evolve your Space
The Chrysler Collection is our ode to the renowned architectural movement Art Deco. Originating in the 1920s and developed over Europe and America in the 1930's it is also fondly remembered as Style Moderne. Guided by the west, the very first Art Deco-inspired exhibition took place in Mumbai, and over a period the architectural style sprawled over prominent areas of the commercial capital of India. One can still witness the Art Deco movement while strolling along the promenade of Marine Drive.

We have included in our collection- sunbursts, streamlined silhouettes, sweeping curves, ziggurats, and geometric shapes in sleek-looking materials are a few of the elements that best complement the Art Deco style of design. Inspired by the style, our range of home décor accessories is made of stainless steel, mild steel, and solid wood which have been responsibly sourced and meticulously transformed into magnificent and durable pieces that would evoke your space.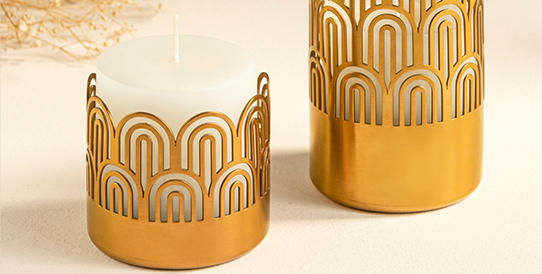 As a leading wooden furniture brand for the masses, Furnmill strongly advocates innovation, quality, and durability, hence we bring to you our range of desk accessories, organizers, platters, trays, bowls, candle stands, and votives that would transform any interior space. Each accessory has been designed to be unique, and multifunctional. The décor elements are finished in PVD and powder coating which exude a lustrous appeal and decorate your space for years to come. The décor products are designed to be used in both casual and formal setups so one can choose to alternate between home and office use.

A conscious attempt to seamlessly transition between art and functionality with a keen eye on details and finishes, these home décor products are an understated luxury. Each shape, contour, and silhouette are determined to get the conversation started. Show your creative flair at your next gathering with our Hexagram Bowl set which is truly functional without the monotonous shape of round bowls.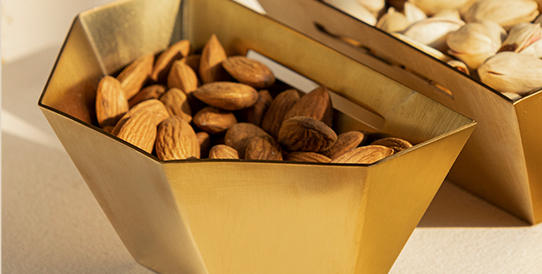 Food is the best way to show your love to your loved ones. Elevate your dining experience with our Vesta Stand. Scatter the Charon Platter with local produce and your favorite cheese and munchies to delight your guests and make memories. The Vesta Stand and Charon platter set are transformational and can be used as trinket trays and composition platters. Pair these with your favorite candles and décor products to add a hint of intrigue to your evening. Each of these dining products celebrates the modern form of Art Deco with their sumptuous contours, geometric shapes, and sleek design. A house reflects its dwellers, and their vision is personified by their choice of home décor products.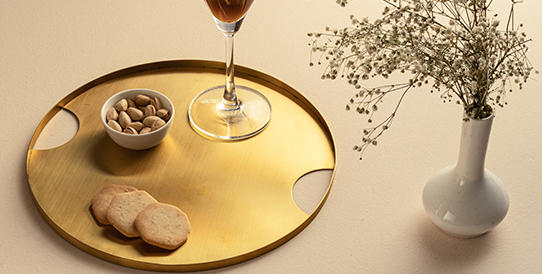 We have taken care of various interior styles and individual preferences and the same is reflected through these metal home accessories. For someone who has a vivid imagination, the Propeller Candle stand will gently sway you back to open waters and remind you of the retro charm of the streamlined boats. The Escallop Candle Stand and Nova Candle Stand are set to grab the onlooker's attention through their intricate and delicate cut-out detailing. The holders cast beautiful and organic shadows once you light your favorite fragrance or even plain candles in them. This feature is about to elevate your tablescape and add warmth to the surroundings with minimal effort. You can choose to bring nuance luxury with our set of napkin holders. Both the Crescent and Orbit Napkin holder are simple details that can transform your dining experience.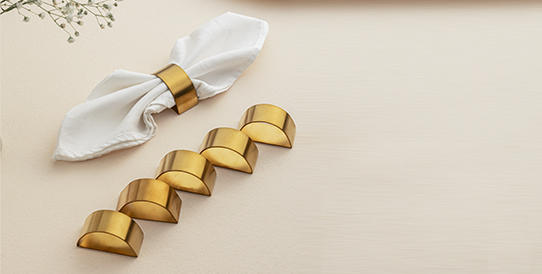 Following the recent changes in how we work and the environment we choose to work in, we thought of aiding you in organizing and decluttering your space. Our designers went on to design our range of table organizers which blend seamlessly on the desk and do not take up too much space. One may choose to compose our table clocks with the organizers to make sure they work in peace and do not miss a deadline!

When we quote 'Life happens around Furnmill we do mean it. We understand the importance of family homes and the nitty-gritty of daily life and therefore have something that suits each member of your family. Bring home the Jigsaw Desk Organizer and cherish its vibrant colors or playfully rearrange its components with your kids. For someone who loves it when their home smells amazing, the Abha Incense holder is a must-have addition. It lends you a way to burn your favorite incense without causing a mess.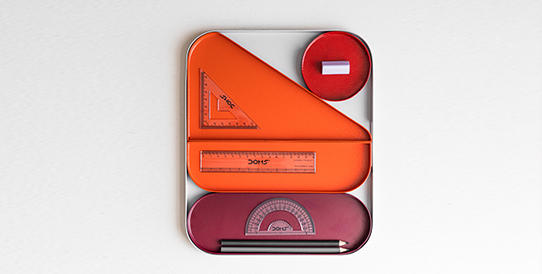 Without fretting, invest in our assortment of metal home décor accessories and our wide range of wooden furniture to experience immense luxury in the comfort of your home because we are here to carefully assist you to bring out your persona in your home.