10 Great Reasons to Invest in Wooden TV Units
Classy and functional, wooden home furniture has been around for the longest period of time. From Center Tables, Chairs & TV units, the choices in this category are endless. If you are looking to add new and innovative furniture designs to your home, you must check out the solid Wood TV Units from Furnmill Furniture.

A great example of style and sturdiness, they are made of super strong and durable wood. Plus, you can use them for years without spending a fortune on maintenance. Still not sure if you should invest in a wooden TV unit? Let us tell you why it is an amazing practical idea!
1. Strong Build
Furnmill's Chicago TV Unit is a great example of solid wood furniture that boasts a unique, creative design while also being sturdy and long-lasting. Plus, its strong build keeps this wooden TV cabinet protected from frequent scratches or dents.
2. Easy to Use
Furnmill's solid wood TV units have unique and multifunctional designs. We also offer free assembly which means you do not need to spend time and energy assembling the unit on your own. The TV cabinets are, therefore, handy and easy to use. Just find the right spot for it in your home, and you are good to go!
3. Innovation
TV units and cabinets feature some innovative designs which can transform the look of your home. Furnmill's Munich TV Unit, for example, is elegant, modern, and practical, which allows it to blend right into any living room. Plus, most TV units are versatile, which means they also act as storage units for items other than your TV!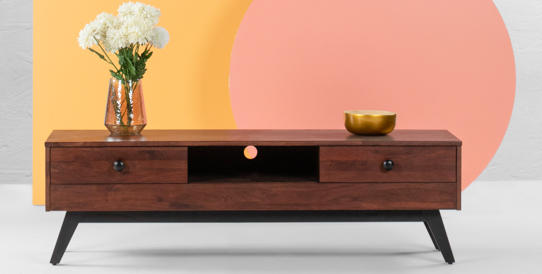 4. Timeless furniture piece
The best thing about Furnmill wooden TV unit designs is that they never run out of fashion. Your TV cabinet will fit right in no matter the current trend due to its classic, timeless aura. Regardless of your aesthetic and choice of home decor, you cannot go wrong when picking a functional TV cabinet made of high-quality hardwood.
5. Low Maintenance
We understand how frustrating and expensive it can be to keep investing money into maintaining an old product. But with solid wood TV cabinets like Furnmill's London TV Unit, maintenance is hassle-free. All you need is a wet cloth to remove any stains, spills, or marks from its surface. From time to time, to ensure your wooden cabinet looks as lively as ever, evenly apply varnish, and it will look as if it is new again!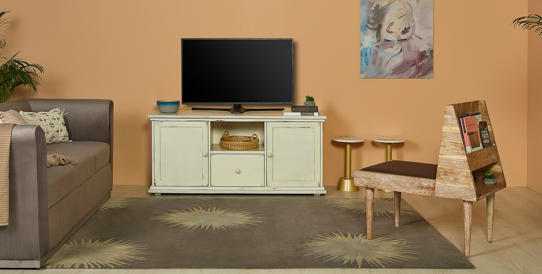 6. Damageproof
Wood is a strong material and can endure harsh usage seamlessly. This reduces the chances of damage for wooden TV units, making them a truly cost-effective option. Plus, you can easily clean wooden surfaces. For instance, if you have young kids who are hellbent on using your wooden TV cabinets as their drawing book, don't worry! All you need is some water and baking soda to remove the crayon stains from the surface. For more stubborn stains, use kerosene oil.
7. Safety
Wood is a bad conductor of electricity, making it the perfect material for items of furniture that house electronic goods, like TVs. Wooden TV units are a safe bet as they lower the chances of shocks and burns. This is even more important if you live with your family, as you would want to ensure the safety of your children even when they are unattended.
8. Sustainability
Made from 100% solid wood, Furnmill's furniture is sustainable. On top of that, the products are eco-friendly as wood is a renewable resource and can be conveniently recycled. Choosing a TV unit from Furnmill's online catalogue is, therefore, good for both you and the environment!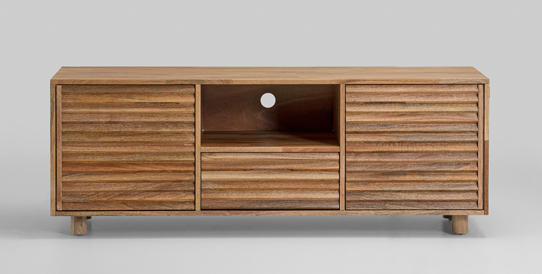 9. Blends with everything
The evergreen designs of Furnmill solid wood TV cabinets go well with a wide range of themes, wallpapers, paints, and house decor. Also, since Furnmill offers a variety of modern and classy wooden TV units online, you can choose from woods ranging from cherry to oak, according to your preferences.
10. Great Finishing
All Furnmill products are characterized by expert craftsmanship and a smooth, seamless finish, which adds a touch of sophistication to your living area. Furnmill's Liverpool TV Unit is one such example that makes for an excellent wooden TV cabinet design for living rooms, bedrooms, or kids' rooms!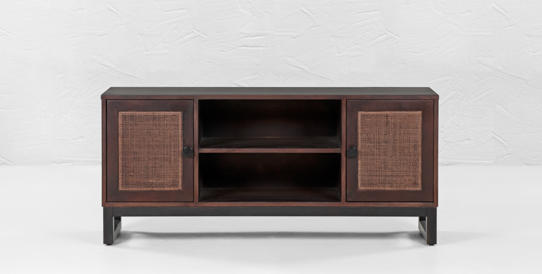 Conclusion
As demonstrated by the factors listed above, investing in solid wood TV cabinets has multiple benefits. Choose from a wide range of trendy, high-quality Furnmill products that are easy to use and are made of a cost-effective material requiring low maintenance. What's more, Furnmill also provides lifetime assurance for all its products!
If you want to go through a vast collection of wooden TV units and cabinets, head to the best online furniture store, Furnmill.com, today!